Dear American Friends, Expats and Visitors,
Still undecided where to celebrate Thanksgiving in Vienna with your family and friends?
After the overwhelmingly success of the past editions, following years of collecting treasured recipes and having American friends sharing their culinary secrets, how could we not decide to host our traditional Thanksgiving dinner again? Join us and celebrate with us
OUR THANKSGIVING MENU
*Pumpkin variations*
*Sweet potato soup or pumpkin soup*
*Fire-roasted turkey with all the trimmings (mashed potatoes, sweet potatoes, green beans, maple butter carrots, cranberry sauce)*
*pumpkin pie, brownies with pears
for only EUR 47.- / person
come ad celebrate with us! Limited availability; Reservation required!
---
…this was 2018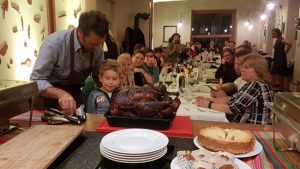 ---
Price: 25.- / person (confirmatory deposit)
The right place for your next party
Still looking for an original concept for your company or private dinner? Stop searching! Let us cook and serve you a most delicious meal in our elegant rooms or take you by the hand and help YOU fix a most remarkable dinner for your friends or colleagues. We serve two courses; the third one you cook!
Do not hesitate to contact us; we shall be happy to submit you a tailor-made offer to match all your expectations and budgets.
Contact us now