Viennese Cuisine – the classics
Spending few days in Vienna or local and curious how the make Viennese Schnitzel really crispy? Then you are right at Andante! Our cooking classes for Viennese cuisine take place regularly in the cozy atmosphere of our culinary atelier. Join us on a historical and culinary journey through the Austrian cuisine. Cook with us together and reveal all the tricks how to prepare a delicious Viennese menu back at home.
Menu "Viennese cuisine – the classics"
Beef broth with fluffy semolina dumplings
Original Viennese Schnitzel from veal with potato salad
Apple strudel from scratch
Of course we are also offering alternatives for vegetarians or people with food restrictions. Please let us know in advance.
The price includes sparkling wine for aperitif, matching Austrian wine for the dinner, non-alcoholic drinks, sail-shipped Brigantes coffee, all the ingredients for the 3-course menu, use of aprons and the recipes.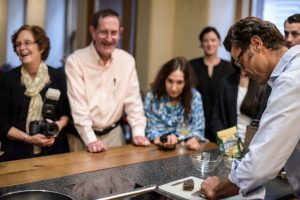 Our "hands-on" cooking class takes place in English; in German or French if wished.
The cooking evening class for Viennese cuisine starts at 6:30 p.m. and takes 3.5 hours. The first 2,5 hours are dedicated to prepare the food together and the rest of the time to eat, drink and enjoy.
Our culinary atelier Andante is located in the 3rd district, one block away from the famous Hunderwasserhaus. You can easily get to Andante by tram no. 1, station "Hetzgasse"; by tram O, station "Radetzkyplatz" or by subway line U4 and U1, station "Landstrasse" and then 10 minutes on foot.
The cooking course takes place from a minimum number of 6 to maximum 14 people.
If you want to purchase the course to a loved one, we would be happy to create you a gift voucher.
For smaller or larger groups, we design tailor-made private cooking classes on request: contact@andante.at
There are no Workshops planned at the moment.
The right place for your next party
Still looking for an original concept for your company or private dinner? Stop searching! Let us cook and serve you a most delicious meal in our elegant rooms or take you by the hand and help YOU fix a most remarkable dinner for your friends or colleagues. We serve two courses; the third one you cook!
Do not hesitate to contact us; we shall be happy to submit you a tailor-made offer to match all your expectations and budgets.
Contact us now